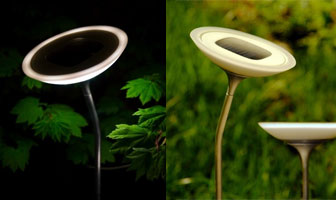 Corona is not just a good beer. It is also the new outdoor solar lighting system by Tokyo industrial designer, Shane Kohatsu and environmental designer, Emi Fujita.
This solar-powered outdoor lighting system can be staked to the ground, attached to a wall, or simply placed on a table top. It transforms sunlight into energy during the day, and its LEDs automatically start to glow when the sun sets. This outdoor solar light is composed of several pieces, no glues or fasteners, so it could be easy to dissemble for recycling.
The Corona outdoor solar light resembles in its delicate form, a carved plate being balanced on a stick by an eager circus juggler.