Everyone likes the Monopoly board game. But, what if you could customize your own Monopoly board game?
With Firebox's "My Monopoly" you can build up your property portfolio round your own official, made-to-order board featuring places, spaces and icons of your choice. Forget about Fenchurch Street and Marylebone Station; your own Monopoly board game allows you to build a property empire on spaces named by you, for you.
Simply send your requirements and in a couple of weeks you'll have your very own one-of-a-kind game with your name in the middle of the board, custom-made at the official Monopoly Factory.
Playing spaces can be named after real streets, pretend places, friends, enemies – you name it. The possibilities are endless. You can select the Monopoly board icons you'd like to appear on the station squares and choose from several themed boards as well as the original Traditional Monopoly board.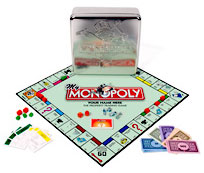 Packaged in a gorgeous presentation tin, your own Monopoly board game can be a fantastic gift idea for your family and friends.
"The world is full of boring products… At Firebox we try to do things a little differently. We search high and low for things with a twist. Products that are inspirational, quirky, bizarre and downright fun."