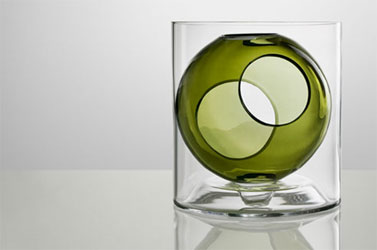 Designed by Matti Klenell for Muuto, this amazing piece of art is actually a vase crafted from mouth blown glass. It plays on the glass material transparency, only to be enhanced by reflective light and the color effect of glass layering.
I think its round features are wonderful, a circle inside a circle, sometimes revealing and sometimes hiding what's inside. As much as i love flowers (and floral design for that matter), this vase can exist with or without them, just place it near a window and let the light play on. Available in opal white, warm green (my favorite) and smoked brown.
Muuto, inspired by the Finnish word muutos, means fresh perspective. Gotta love Scandinavian design.