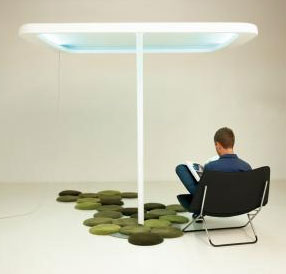 Ronan and Erwan Bouroullec designed this unique lamp called Parasol Lumineux. Made from fiber glass, two fluorescent tubes, dimmer and a circular metal base, this lamp attracts people to gather around it, providing a unique roof of intimacy.
I love the name Parasol Lumineux, by the way, because a parasol is a device designed to give protection from sunlight, whereas lumineux means luminous, radiant, brilliant. The unique Parasol Lumineux is available in a white color, measuring 200 x 186 x 186 cm.
Designers and brothers, Ronan and Erwan Bouroullec have been working together since 1999; a constant dialogue, one that is fed by their separate identities but strives toward a common goal.