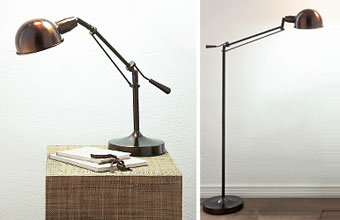 I came upon the unique Brookfield Floor Lamp by Gaiam, a cool brand which values the environment, sustainable economy and healthy lifestyles.
With an aged bronze finish and solid metal construction, this vintage inspired lamp is based on lamp designs premiered at the St. Louis Exposition in 1904, combining the unique style of a traditional reading lamp with 21st century efficiency.
With 150W of bright, white light, its 26W bulb would last up to 10,000 hours. The lamp head tilts and rotates for perfect positioning and counterbalanced handle raises and lowers to put the light where you need it.
Buy This Item