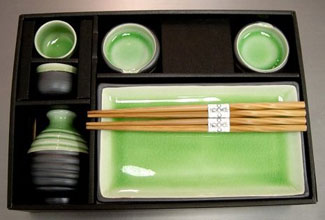 I love sushi… The exquisite taste of fresh Tuna, rice and roasted seaweed mixed with bits of avocado and cucumber; I am so hungry for a spicy Tuna roll right now I simply cant wait to get my hands on this beautiful, Japanese Sushi Plate and Sake Set – The perfect gift for all sushi lovers.
Manufactured by Kafu, this wonderful Japanese Sushi Plate & Sake Set comes in an elegant black gift box. The set includes 2 plates, 2 saucers, 2 chopsticks, 2 sake cups and 1 sake bottle with a unique tea green finish.
The plate size is 8.5″L 5″D 1″H. The saucer size is 3″Dia. 1″H. The bottle size is app. 3″ Dia. 4.25″H. The cup size is app. 2″Dia. 1.75″H.