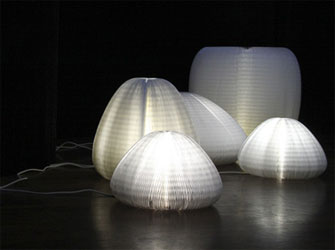 Remember we told you about the amazing paper lounge furniture by Molo Design? Well, now they came up with a unique, fold-up paper lamp called Urchin.
The Urchin paper lamp is a flexible, sculptural light fixture spreading a soft, relaxing translucent white light. It's made from flexible honeycomb and belongs to Molo's "soft" collection of expandable, compressible furniture and space partitions.

The Urchin offers a unique and playful interaction; the three-dimensional geometry of this unique lamp will morph through a multitude of forms as you rotate it through and around its own center with your hands. You simply cant resist yourself from playing with its ever-changing elastic movement and shifting organic form… It's almost addictive.