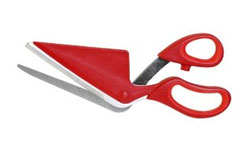 Order some Pizzas and get your friends over or maybe make it a fun family Pizza night; but you know how sometimes you need to use your kitchen roller on each slice because it's still attached to the other slices, only to find yourself loosing your way, crashing into peperoni, olives and such? Not anymore – Check out the nifty Pizza Scissors!
With its comfortable grip handle, which is great for left and right handed users, these long blade scissors can easily cut through food and serve it as well. So now you can easily cut and serve your pizza, quiche or even foccaccia bread with one nifty kitchen gadget.

The Pizza Scissors separate for easy cleaning – simply pop it into your dishwasher and you're done.