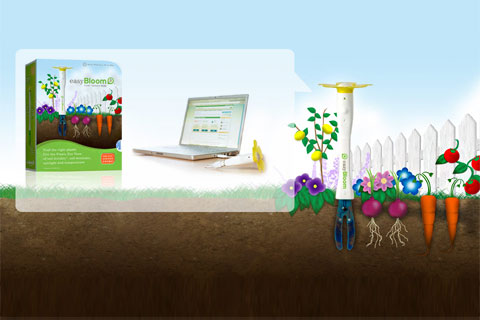 I am an enthusiastic gardener; i love to grow all sorts of flowers and exquisite plants, from Lilies to Tulips and more. My only problem is that I'm not quite sure which plants will thrive where, so when I found out about the EasyBloom Plant Sensor I simply had to have it – It's almost like having your own personal team of botanists on-call around the clock.
The EasyBloom is the perfect gift for the avid gardener; it has an in-ground sensor, which reads and analyzes growing conditions in specific spots inside your home or in your yard, measuring sunlight, temperature, humidity, soil moisture and drainage. It even uses the same technology used on NASA's Mars Phoenix mission to measure the soil….how cool is that?!
No more trial-and-error planting, simply place the sensor in a spot where you would like to grow a plant, give it at least 24 hours, then plug it into your computer USB port and watch as it turns readings into recommendations, listing plants sure to flourish in your exact environment, while letting you narrow your search even further and get access to the EasyBloom database of 5,000+ plants.

Buy This Item