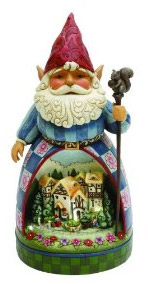 Check out this charming gnome solar statue by renowned sculptor and folk artist, Jim Shore. This whimsical 19.5″ gnome statue, from the Heartwood Creek Collection, features a solar-powered diorama sculpted into its body.
Enjoy the statue in its full glory during daylight as it charges in the sun, while at night time the main figure recedes into the darkness as the diorama emerges, glowing in a dramatic effect.
Crafted in resin to look like carved wood and beautifully hand painted in soft, subtle colors, this enchanting gnome statue will be perfect as your garden solar light as well as a delightful outdoor decor, adding a warm and welcoming touch to any garden, walkway, deck or front porch.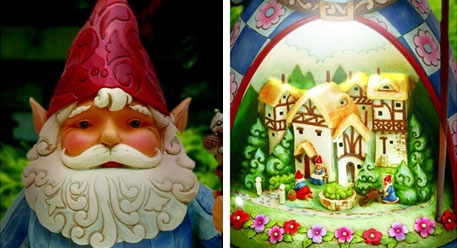 If you prefer to position the piece in the shade, just be sure to put the cord-attached solar panel in a bright, sunny spot to recharge. When fully charged, its light will last up to five hours.
Crafted with fade-resistant paint and UV protection for outdoor durability, this playful gnome statue is provided with one AA rechargeable battery, 4 LED lights and a 12″L solar panel cord.
Buy This Item