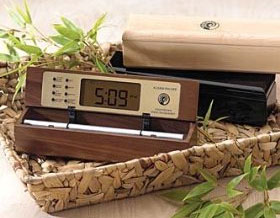 With the Digital Zen alarm clock you will wake to the gentle sound of Tibetan bell-like chimes so you could start your day more renewed and refreshed. No more of the awful electronic buzzing of most alarm clocks, because from now on you will wake to the wonderful, soft E tone of the ultimate Zen alarm clock, gradually taking you from a lighter sleep state to becoming fully awake.
For me, waking up in the morning is never easy, and in the winter time it's even twice as hard so after trying the Zen alarm clock, i found it transformed my whole approach to the early morning rise n' shine wake up call. I can also use it as a travel alarm clock whenever I'm away form home, which is great since i cannot even think of going back to my old alarm clock.
You can also use the calming Zen alarm clock countdown or timer for your meditation or yoga practice. It has an adjustable volume control and it uses two AA batteries or an AC adapter.
Buy This Item