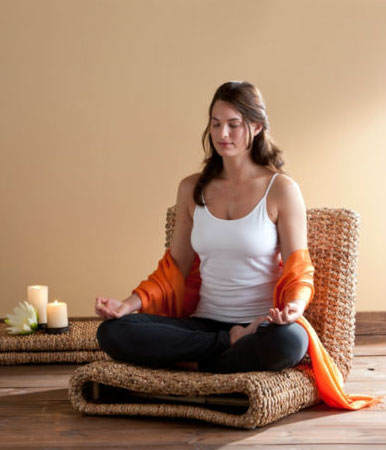 However meditating is something that involves internal processes and complete concentration, supporting our body correctly only adds to a smoother and better experience. Practicing yoga and meditation since about 10 years now, I must admit that I've only being using a pillow to support my spine.
This chair made from soft and durable fibers woven from the renewable water hyacinth plant found throughout Southeast Asia, has caught my attention as an alternative. Its design seems to be well thought off, addressing the fact that when one meditates, there is a clear need in feeling grounded, something that cannot be accomplished when sat in "normal" chairs.
With Mitra Bali's (a fair trade group) water hyacinth meditation chair, one may be sitting just a few centimeters from the ground, while the right amount of support needed for the meditation practice is provided. It seems quite ideal. Speaking of its form, the curves characterizing it serve the feeling of relaxation that one wishes to accomplish, something that sharp edges are not considered to be equally able to offer. It's simple yet elegant to the point that it actually becomes a nice addition in one's living room.
Aside from meditating, this chair – with just the perfect dimensions, 27½" x 27½" and a back being 23½" high – will prove quite comfortable for those who work from home using their laptops. The accompanying tray may complete perfectly a little movable working nook. Just imagine, how great it is to be able to move a light chair around – it weights just 24lb – place it there where the sun shines in your home, bring a cup of your favorite hot beverage to rest on the tray and enjoy working in a comfortable position. Even a light snack or dining in a Chinese manner would be possible!
Stylish texture, durability and comfort all meet in this design, serving functions from working to dining to meditating or… the other way around if you'd like. Yes, I think I'll take one, Merci.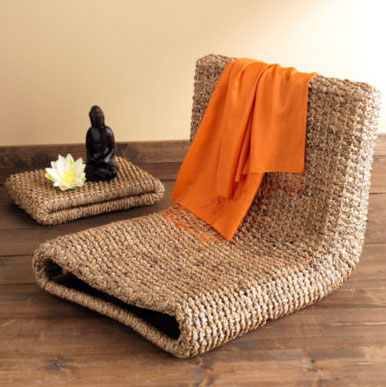 Buy This Item