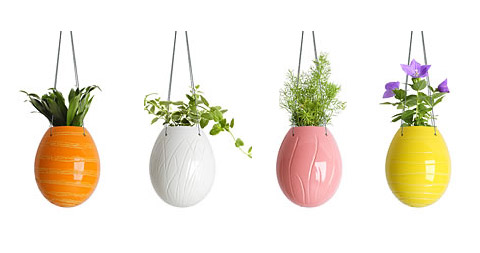 The hanging Egg Planter is a part of the Egg Collection by NY-based studio, J Schatz. A durable yet delicate, hand carved ceramic planter, featuring a beautifully finished glossy egg shape with a 3" opening that is simply perfect for small potted plants – a decorative addition to your indoor or outdoor space.
Available in eight stylish colors, no two planters are alike; each planter is hand carved with a unique pattern that is associated with its color.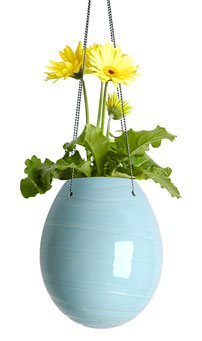 If you wish to bring some of your garden natural beauties indoors, simply insert the four drainage hole plugs into the bottom of the Egg Planter to prevent water drainage.
Measuring 8.5″ high x 6″ wide, the planter hangs securely from 4×15″ long stainless steel bead chains that are connected to a stainless steel spring hook. The bead chain sparkles in sunny weather and will resist rust on rainy days.
If you're a bird lover, like me, then I'm sure you will absolutely love this collection beautifully delicate, egg-shaped birdhouse and bird feeder – Both elegant and practical.