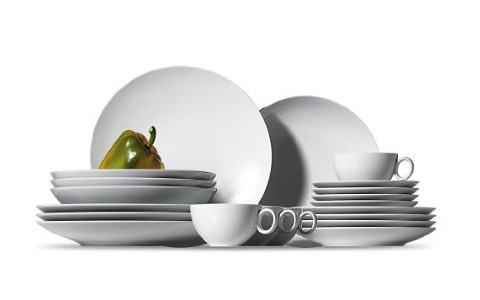 I have always preferred white porcelain dinnerware to give my table that elegant and sophisticated look, and now that I have discovered the 'Loft' range, manufactured by Thomas – Rosenthal, I do not need to search any further.
"Thomas – The Trend Factory" has been a byword for modern, stylish, uncomplicated design for 100 years appealing to a young, ambitious customer group, always looking for a new approach whilst maintaining the highest quality. Today, the Thomas range is produced at the Thomas and Rosenthal factories situated in Bavaria, Germany. All the tableware is flame-retardant, heat-resistant, dishwasher-proof and microwave-proof. Of course it is also "from oven to table" as one expects today.
The porcelain tableware is elegantly minimal and has a subtle pattern of fine, slightly raised white lines that form concentric circles or squares, depending upon the shape of the piece. Shapes are mixed and matched – round, oval, square and rectangular, creating a highly unique arrangement on the table.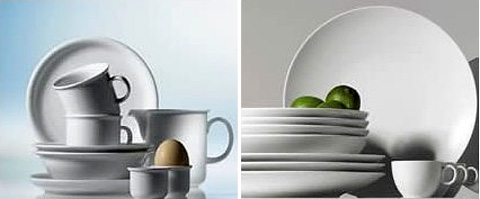 There are nearly sixty different items available in the range including plates, bowls, dishes, jugs, cups and saucers and even a Chinese style soup spoon. They can be purchased individually and as you require and so it is possible to build up a set of dinnerware suitable for any menu and to match your personal decor.
So, when I set my table for my next house party, I do not have to worry about the elegant presentation created by my beautiful 'Loft' porcelain dinnerware but only to be sure that my cooking is up to the same standard.
Buy This Item