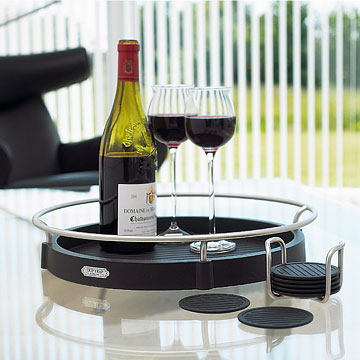 I am sure that when Skagerak manufactured this 'Ocean Tray and Hanger' they had sailing ships in mind. Both the stylish design and the practical usefulness make this tray ideal for use on a boat as well as in the house.
The bottom of the tray is made of a soft, non-slip material to prevent glass and porcelain from sliding around in rough seas. The tray handles are a miniature version of the strong railings on racing yachts and stop glasses falling off the edge.
The ever smart black and stainless steel finish makes for a modern approach to a simple item that everyone needs and uses on an almost day to day basis. The stainless steel is corrosion proof and the black plastic base is exceedingly weather proof – great for use outdoors. On the yacht or at home, this tray is really useful.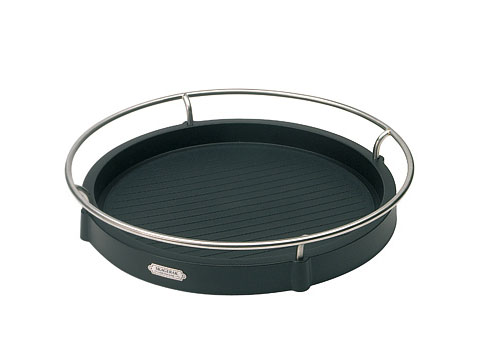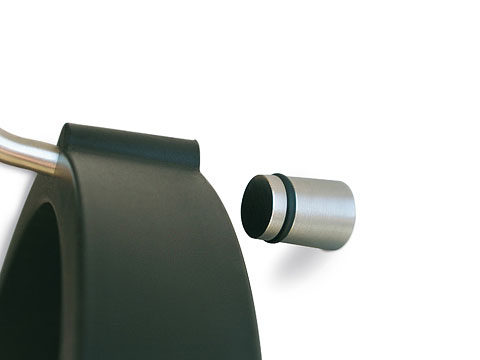 Another practical feature, is the possibility to hang the Ocean Café Tray on the wall to save cabinet and table space. The smart wall hanger fits into the bottom of the tray and gives the appearance of it floating on the wall.
Skagerak have, as usual, produced another item that will retain its utility year after year. The flexibility and style of this piece are reflected in its design, reliable material and careful processing.
The sleek modern design by Hans Thyge together with the latest materials used in the manufacturing of the tray, make it a useful household item and a beautiful gift for any boating or sailing enthusiast or anyone who loves the sea.
Buy This Item