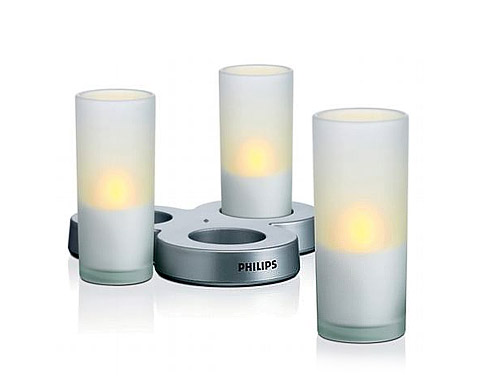 The Imageo CandleLight by Philips is a mood lighting fixture I'd like to call an 'ambiance maker'. This item is truly unique – a set of 3 electric lights, providing the warm glow of a flickering candle, without the hazards of open flames and hot wax. Each glass candle light is rechargeable and wireless, and can operate for up to 20 hours on a 10-hour charge. What a great way to combine between the special atmosphere created by candle light with a stylish designed item to enrich the entire room.
The candles have intuitive design – tilt to turn on and off, no need to find switch; they are wireless, so they can accommodate any style of hosting on your mind – whether a romantic dinner, a friendly night out on the porch or even a relaxing time in the bath. Because they are cool to the touch, they are easy to use in places where it may not be practical to have real candles.
When not in use, place the candle lights on their convenient charger base that doubles as a storage holder. Unlike regular candles, these will never burn out. It is not only an ideal item for creating the ambiance you desire, but also a decorative piece that will add a lovely touch to every room in the house. This is a perfect Christmas gift – ready to go, anytime, anywhere.
Buy This Item