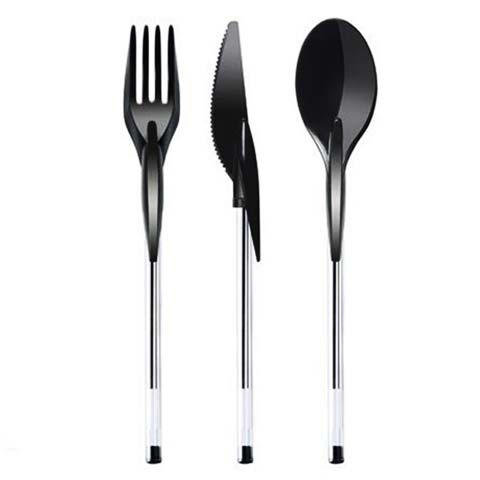 Use the Din-ink pen caps to turn your bic pens into your personal cutlery set. Most days our lunch-breaks at the studio are a friendly affair. We all gather around the table in the conference room and share our stories of love, grief, frustration and client woes. Fine dining is not on the menu, some of us bring food from home, some nibble on sandwiches and the rest enjoy the "take-out-of-the day".
For the past year, we have been slowly but surely changing our ways and going greener and more eco friendly. We no longer use disposable plates and cutlery but washing up after lunch is no fun especially if we're in the middle of a creative session. So with great joy we have embraced the new Din-ink cap utensils and in one elegant sweep we switch from ballpoint pen to fork/knife/spoon and back!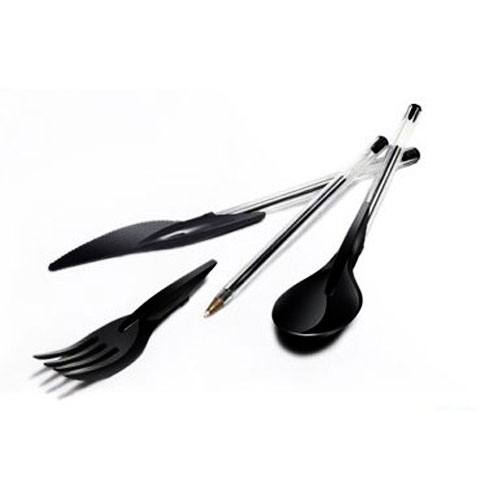 In 2008, Italian-based studio zo-loft won first prize for "Din-ink" in the designboom competition 'dining in 2015'. Din-ink is now in production by fiftytwoways ltd. The non-toxic caps are made from food approved materials and packaged in a 100% biodegradable compostable wrap which can be reused as a plastic bag. All the materials used are sustainable and good for recycling. We give good marks for these smart, useful eco friendly caps.