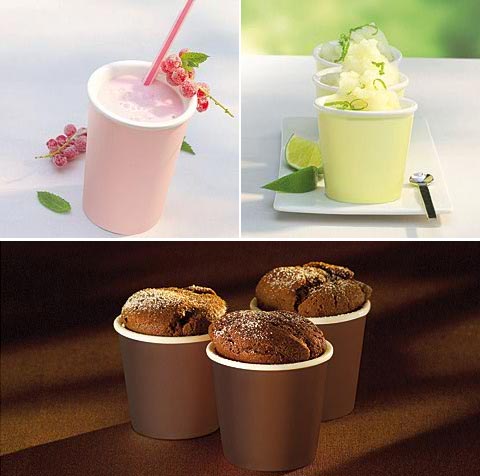 Hot+Fresh is a vibrant, cheerful and happy range of cups – perfect for serving both hot and cold. Inside it is white, outside is any color you want. Designed for both uses, you can mix it up as you please – whether it's pink or blue, yellow or green. It could serve as the perfect setting for serving ice cream in the summer, or setting up a sweet chocolate souffle finale at the end of a dinner party. Inside it's white, but outside it's stylishly hot!
There is something so fun and vibrant in serving food of all sorts in nice, happy and vibrant dishes. Simply gives the food an entire new meaning, and makes it into a small celebration of good times. Coming to think about it – food and beverage should be celebrated; it's one of the great joys of life and should be treated with attention and care. Part of that is serving it in the right way. Hot+Fresh is definitely the right way to serve, creating a happy vibe of food and drink, filled with love and care. It doesn't get any better than that.
Available in the form of espresso/sorbet cups or cappuccino/milkshake mugs, each cup features a colorful, powder matt surface.