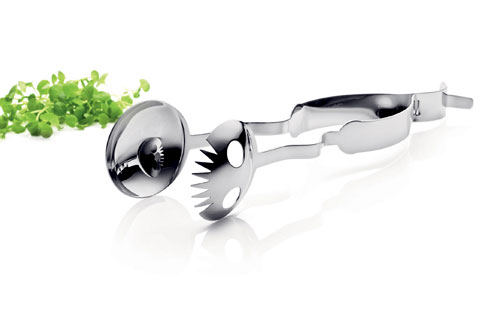 I love serving salads. Between the different vegetables, garnishes and dressings there are endless combination you can make and you can always add meat, pasta, eggs or fish and the salad becomes a meal in itself.
Over the years, my collection of salad bowls has grown to include ethnic bowls from strange countries, vintage bowls from flea markets, minimalist designer bowls and cool bowls in all kinds of shapes and sizes. In short, anyone who wanted to bring me a gift would buy a bowl.
And then a friend of mine returned from Denmark and surprised me with a new original gift – salad tongs! And not just any tongs but these beautiful, combination salad spoons and tongs designed by Bent Falk.
As soon as I took these innovative tongs out of the box they made me smile, the spoon and fork looked like such a cute couple: she was round and shiny and he had these goggle-eyes and spiky hair, I straight away wanted to share them with a bowl of curly lettuce!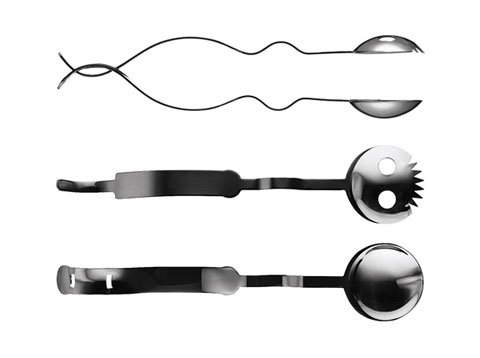 Did I mention the nice surprise this couple holds in store for you? they can also be linked together and used as salad tongs. Made of polished stainless steel and dishwasher safe, because of the shape and size of the tongs and their no-slip grip and effective spring action, they are perfect for serving saucy salads like pasta or shrimp.
I love the fact that Bent Falk didn't sacrifice functionality over design and in fact managed to create a practical object that in a very simple way is also humorous and fun. So now I serve my salad with the cheerful pair of Salad Tongs, from Menu, and a big smile.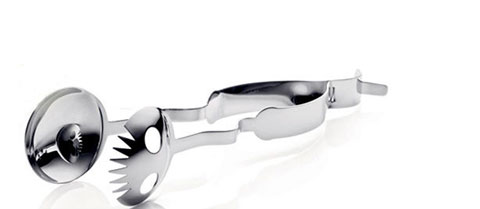 Buy This Item