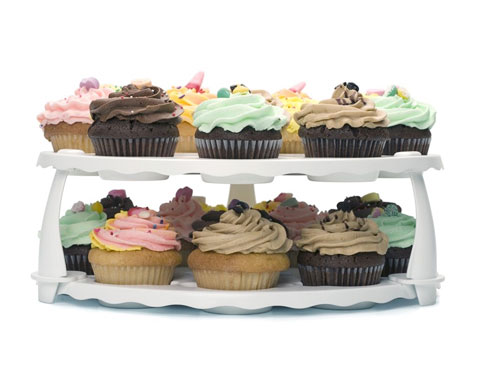 This versatile carrier makes it so easy to transport all those lovely decorated cakes and cupcakes. My daughters are into making cupcakes. Every other day there seems to be a "special occasion" (a friends' birthday, end of school project, girls' night…) that turns my kitchen into a baking shop. They are actually very good at it and with each batch their decorations get more elaborate – icing, sprinkles, chocolate sculptures – but as long as they also do the cleaning up I don't mind.
My contribution to this, apart from being a very proud parent, is helping them transport their creations. Usually this means driving very slowly with an anxious teenager cradling an improvised cardboard box in her lap. So on behalf of us cake and cupcake bakers and buyers I would now like to thank the guys at "Progressive" for thinking of the collapsible cupcake and cake carrier.
This tiered carrier can safely hold 24 cupcakes or a large iced cake. The cupcakes sit securely in a two tiered tray, the tray can be used for serving but if you want to remove the cupcakes the indentations have special recesses for your fingers.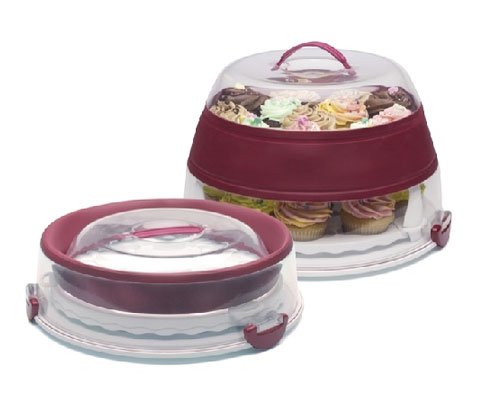 The cake tray can hold both square and round cakes and has slicing guides that are very convenient for cutting perfect servings. The cover snaps securely over everything and for easy storage all parts collapse to half the original height and of course, it's dishwasher safe. With the Progressive Collapsible Cake Carrier – no more squashed cupcake and icing covered car and kids incidents!
Buy This Item