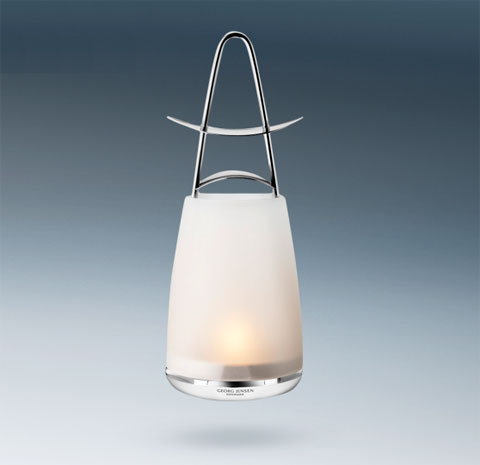 Here is something unique and original – The Elements Lantern by design duo Jan Egeberg & Morten Thing for Georg Jensen. This beautiful lantern is a part of a collection that celebrates the four elements of nature: earth, fire, wind and water.
The pattern is in the shape of a flame, its design has been made to ensure that the tealight burns safely and that the lantern never overheats. The flame is protected from wind and rain, ensuring a radiant light no matter what the weather brings. You can hang it from a tree branch or use it as decorative outdoor lighting on your porch or deck while enjoying a cozy evening outside, or simply place it in your living room to create the perfect ambiance while relaxing on the couch. This lantern is all about celebrating life and the four elements with one light.
Looking at this gorgeous lantern, one learns that this is not just an ordinary lamp. This lantern is unique enough to have your imagination inspired using it for any occasion, whether inside or outdoors.
This flame shaped lantern is sized H: 7.5″, W: 3.5″, D: 2.25″, it's elegant and stylish and inspired by the deepest thoughts about life, elements and celebration.
Buy This Item