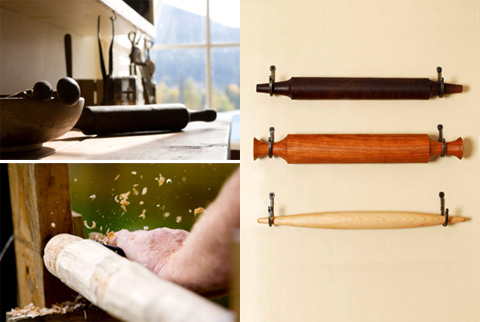 Yesterday, as I was opening my package from Vermont Rolling Pins, the first thing that came to mind was "Craftsmanship". Smooth and lightweight, my new French rolling pin was nestled in its box, waiting for me to lift it up in my hands and feel the ever-so-smooth Maple wood material and the slightly curved shape of this fabulous cooking tool – The fact that it was light as a feather seemed to make me smile even more.
My new French rolling pin (I think I'll call it Frenchy) is a part of a handcrafted collection, made with solid hardwoods, love and care by a family-owned company from Vermont. From the classic Shaker and the elegant Flame to the rustic Acorn and the charming French, their wonderful rolling pin collection is available in a deep reddish brown Cherry, light tan Maple, or a dark chocolate Walnut.
Worthy of display, these stylish cooking tools are a "must have" item in every kitchen, especially for those of you who like to bake pies and pastries, cookies or bread (and let's not forget Pizza night) – no dough would be complete without its proper companion – the rolling pin.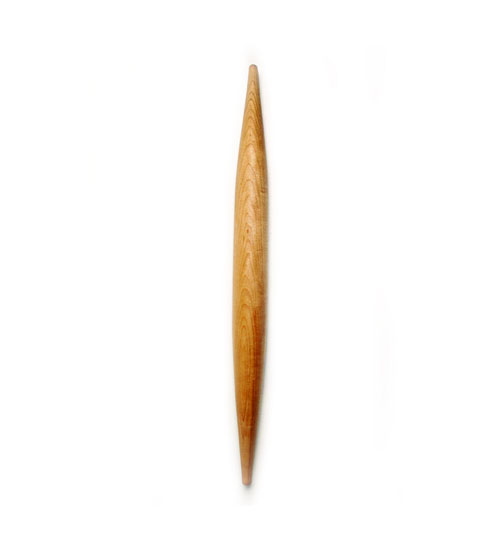 Getting back to Frenchy… I love its simplistic design with a drop of French allure – I can't quite explain it but it has a certain je ne sais quoi that sends me down narrow Parisian streets with tiny patisseries filled with fresh goodies…
One of its most prominent features is its slenderly pointed tapered ends, allowing you to handle your dough in an easy circular rotation while rolling out the perfect pie crust. Oh, what I wouldn't do now for a warm and tasty Apple pie… I can just smell it coming out of the oven all steamy and scrumptious…
Available at Vermont Rolling Pins