I'm always happy to come across items that enhance my whole kitchen experience – and the Sarpaneva Cast Iron Pot by the well known Scandinavian company, IIttala, is one of them. Originally designed by Timo Sarpaneva in 1960, this wonderful cooking pot blends functionalism and a polished aesthetic that ensures its timelessness. It is an award winning Finnish design classic, after all.
The Sarpaneva pot is made of heavy cast iron with a white enamel finish on the interior. The pot weighs 11.9 pounds, measures 10.5 x 8.5 x 7 inches and has a three quart capacity. The adorable wooden handle serves a dual function – that of moving the whole pot or just removing the lid, depending how you position it. If you are thinking of adding this classic pot to your kitchen, it is essential that you hand wash it to avoid scratching. Additionally, stay away from harsh cleaners.
Some may consider cast iron an old-fashioned, humble material, but that doesn't mean it's not still amazing. Cast iron is a great kitchen companion. Apart from its rustic charm, cast iron is relatively inexpensive. It's a super conductor for heat and distributes heat uniformly and consistently, therefore saving on energy while ensuring thorough and even cooking. You can move a cast iron pot from the oven to the stovetop and back – saving you time and dishes.
But my favorite part of cast iron is that it's naturally stick free – so you can reduce your use of butter or oil quite significantly, or skip it all together, allowing for healthier meals. If well maintained, cast iron won't warp, bend or chip and will stand the test of time. In my opinion, if cast iron can last you a lifetime, it's worth considering a designer piece like the Sarpaneva pot.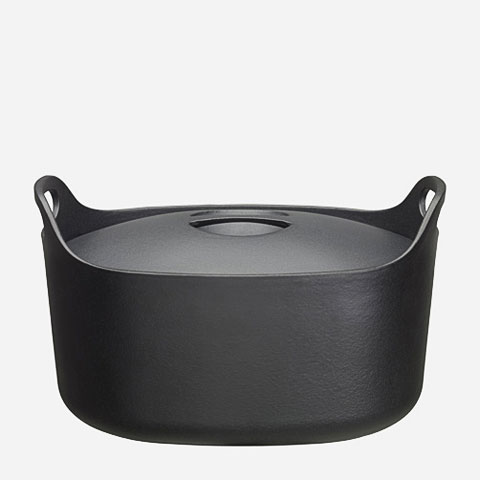 Buy This Item