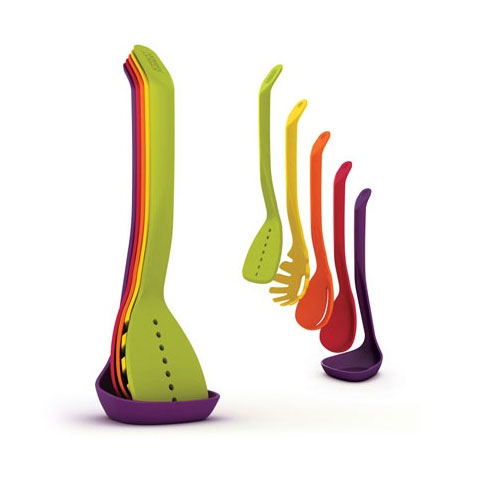 If you are in need of saving every extra possible centimeter on the surface of your kitchen's working area, then Nest Utensils should not slip from your attention. Brilliantly designed by Joseph Joseph, they make cluttered drawers and busy cooking area tops history. How? By simply using one of the utensils itself as a base, where the rest four of the 5 piece cooking set are stacked upon one another.
A slotted Spatula and slotted Spoon, a solid Spoon, a Ladle and a Spaghetti Server have never acquired less space, while being directly available to your reach, right there on the spot, where they are needed.
The self supportive design is possible thanks to small magnets in the utensils handles. This way the are securely stored while not in use, eliminating the need for an additional utensil pot, economizing on space.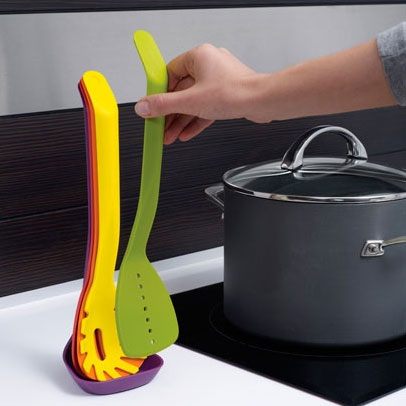 Nest Utensils are made from toughened nylon and are heat resistant to 240 degrees C or 464 F. To avoid staining of their beautiful colors they are offered in, simply avoid using with strong food colorants like Turmeric.
Place your utensil set next to your cooking corner and enjoy your process till the last minute! Mix your colorful plate ingredients with your equally colorful kitchen utensils and when the time comes to put them away after they are safely dish washer cleaned, don't worry about a thing. Just bring all the family in its nest.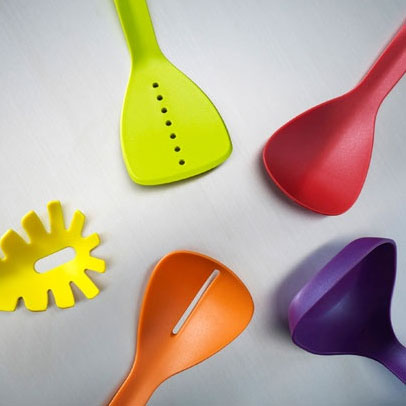 Buy This Item