Winter is here and what better way to soothe the cold weather than to pamper yourself, and loved ones, with a hot cooked meal. As an avid cook myself, I've decided to invite a couple of friends over for a simple, unpretentious Sunday lunch, and to make everyone comfortable and warm – a hot and steamy vegetable soup was definitely in order.
Potatoes, carrots, various root and squash, onion and garlic, have all invaded my countertop waiting to be sliced… Now, I don't know about you but I've been searching for quite some time now for that special chef knife that would make slicing and preparing food a whole lot easier. Fortunately, a couple of days ago I received the Naifu D67 – a supremely sharp Japanese Damascus steel chef knife, that was just waiting for its chance to shine.
I have one word for you: Smooth.
The Naifu D67 is just that. Beautifully made, comfortable to hold, easy to work with, and razor sharp – so watch your fingers.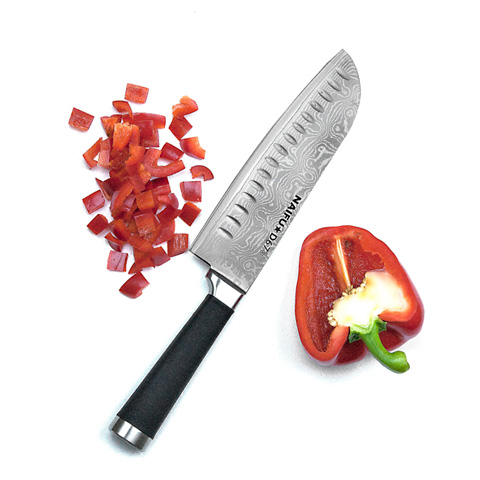 As most of us know the whole preparing food thing can sometimes be a bit cumbersome and frustrating, however with this knife it's been nothing but pure pleasure. The knife feels solid in your hand yet not too heavy to work with as you chop away vegetables and slice through meat with absolute precision.
Now my philosophy is cook with love or don't cook at all, and when you work with a knife like that it's hard not to take pleasure in your work and enjoy every minute of it. Needles to say our Sunday lunch turned into a cozy and wonderful get-together.
The Naifu D67 collection is available at the Chef's Knife Store – The brainchild of Michael Schneideman, founder and former owner of the Divertimenti cookshop, and endorsed by chef Tom Aikens.