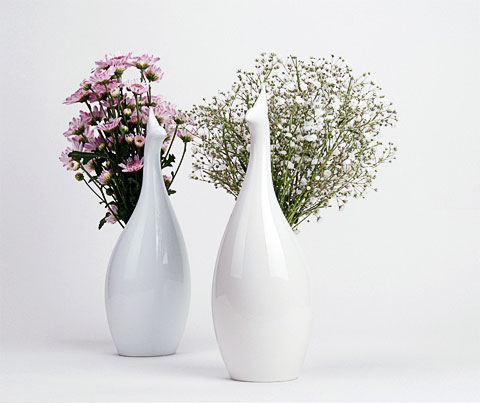 Imposing, yet airy, is this unusual ceramic flower vase named Peakco, designed by Tale. Tale consists of four designers based in Korea who control everything from the design, to the planning and promotion of their products, all locally manufactured. They are a brand of designing with stories, studying the materials, myths and sensitivity related to the objects.
All that is easily evident in Peacko, this inspired white vase in the shape of a peacock, where imagination meets function and a simple object like a vase, is transformed into visual poetry.
Much like the variety of a peacock's feathers, the different kinds of flowers are going to bloom in peacko, making every bouquet a new experience. With its 25 cm height and width and depth of 8.5 cm in its large version, it looks fabulous with flowers gathered from the fields as much as the ones coming from your local florist shop.
I'd love to place together a small and a large one, carrying my day's treasures collected from a ride or a walk by the woods. From filled with Baby's Breath, to simple white Daisies, to Hyacinths, these vases are a sophisticated statement, leaving an elegant touch of humor. And I love them especially for that.