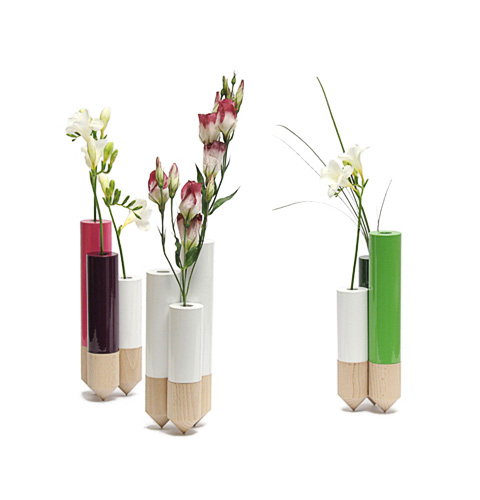 These flower vases combine some of my ever favorite elements, all smoothly and beautifully combined in one. A play of textures, shapes and form in one design, made of beech, a kind of wood I truly like.
The award winning designer FX Ballery designed these wooden cylinders ending in cones, in his Paris studio. He describes them as a combination of thick and fine, aggressive and soft, solid and fragile.
I could not have described it any better myself. The repetition of number three somehow pleases me in intuitive ways. There is a sense of balance, completion and harmony in this design, which seems to satisfy my senses.
Three cylinders, each one in a different height (the tallest one measuring 25cm), while all sharing the same diameter of 9,8 cm, made from beech wood. I love the play between keeping the basis of the vase in natural, unpolished wood, while the rest, is colored in a satin finish.
Again available in three options: All white, shades of green like fresh and dark green or purple tones like aubergine and the most lovely shade of pink. I cannot find reasons enough to suggest them in all combinations, still it is the white one that must find its way into our home as soon as possible. I'm seriously smitten. Already imagining flowers PIK could hold, vignettes it could be part of and interior styling photography it could be incorporated into.
And you? Are you as enthusiastic about this piece of design as I am? Which one would you choose? Looking forward to your replies.