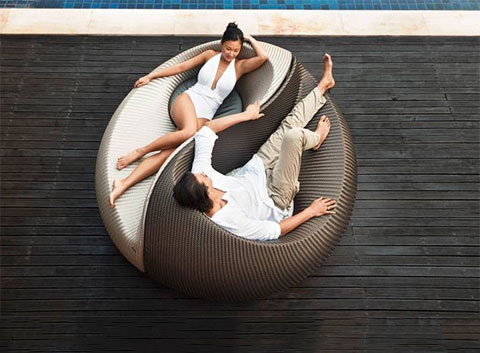 Another yet sublime product designed by another impressive designer, Swiss Nicolas Thomkins. It seems that there is always just another unforgettable design to share here with you. There is so much happening in the field of design that keeping track requires devotion and a clear mind.
Some products though simply and effortlessly stand out. Such is the case of the Yin Yang chaise long, to which I felt immediate attraction for multiple reasons. It stands for so much I like, prefer and strive for. Excellence in quality, smooth design, inspired concept, to begin with.
Dedon's chaise long is certainly free of all convention, having its origin in the harmony of forms, while uniting the dynamic opposites of Ancient Chinese philosophy into a harmonious interplay of color and form.
The metallic colors of bronze and platinum could not have been better chosen, while the concept of creating a three dimensional practical object out of a widely recognized symbol is simply ingenious. What a vision! Despite not being easily impressed, this set of chaise longs beautifully coming together into one, simply astonishes me.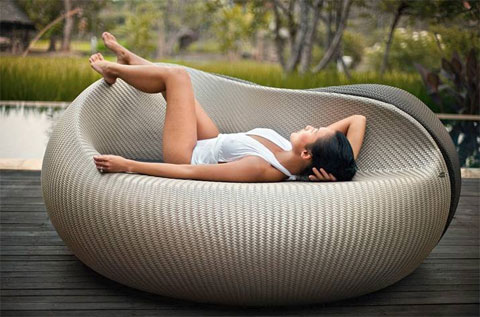 I love the fact that the chaise longs can be used according to occasion separately or as one piece. As one piece, the combination of the two metallic colors is super elegant. It might seem cliche, but I cannot help imagining a couple sunbathing together, while quietly enjoying each others' company.
Nicolas has placed extra care in the design process, as much as the development phase working together with the team, the result being units that are wonderfully eye pleasing while being heavenly comfortable. It is indeed a work of art that unites two elements into a flowing form. For them to be steadily kept together, there is a "connection" piece, ensuring them to be securely attached to one another. Just as a loving couple would do, right?
This beautiful outdoor furniture set asks for generous space, as its diameter measures almost 2 meters, being 1,96cm. Each chaise long individually is 1,12 cm wide, 1, 96 cm long and has a max height of 88cm and a min one of 52cm. They come with a cushion for extra comfort, in the color of the "twin" chair, a detail which perfectly completes the transformation of the yin and yang symbol into a three dimensional object. Marvelous!