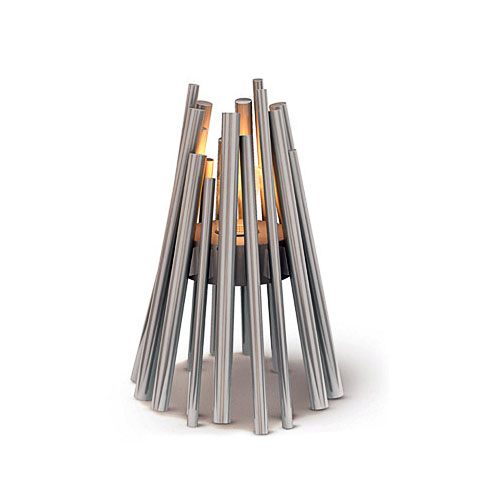 Fireplaces are a wonderful focal point whether placed inside or outside. They add actual and visual warmth, attracting people to sit around it.
Not all spaces are designed incorporating one though. An easy fix is to use a "no smoke, no soot, no ash" alternative, which are usually built to be powered by clean-burning, environmentally friendly bioethanol.
A perfect example is the award winning EcoSmart, designed by the Barcelona-based designer Hiroshi Tsonoda. Even though it is mainly produced to be used out in the great outdoors, the fact that it actually produces no smoke and is clean burning allows it to be used inside as well.
However, its imaginative design inspired by campfires will be in its best situated in your garden, your veranda or why not, at the beach during those warm summer nights, with friend gatherings taking place.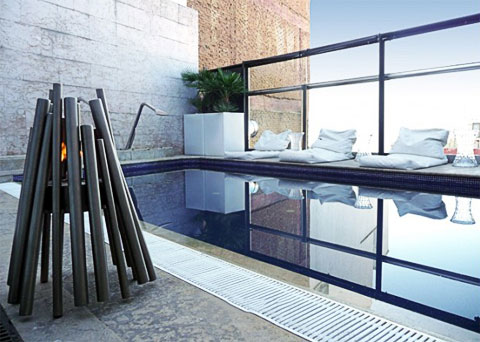 Hirochi loves to explore geometric possibilities and during such a design adventure, he must have seen varying sized tubular stainless steel "sticks" in lieu of actual sticks of wood. Elegantly and stylishly gathered and secured all around a 3 litre burner, the EcoSmart Fire Stix will keep you cozy for up to 8 hours, totally smoke free.
All it takes is to choose which version you prefer: the brushed stainless steel, the black powder coated steel or the bead blasted gunmetal. Then simply set up, light up & enjoy!