Nothing short of WOW is what Dominique Imbert's design studio has been able to achieve. The French based company specializes in modern fireplaces and their creations are absolutely breathtaking. One of their main designs is the 'Slimfocus' which won the "Interior innovation award " in 2015. Its chic cylindrical shape steals the show and offers a contemporary design that is bound to be the focal point of any interior.
The Slimfocus is the first suspended sealed wood-burning fireplace, and is outstanding in its aesthetic fluidity, minimal volume and superior heat performance. If you prefer not to have a suspended fireplace, you can order it in either a fixed, pivoting or free-standing version. The fireplace draws in air for combustion through the smoke evacuation flue (balanced flue system) and as such is compatible with low-energy buildings.
The Slimfocus comes in two amazing shades- the standard is a matt black but you can also choose the anthracite grey. Its nominal heat output is 2-6 kW, its efficiency is 85.4% and its CO output is 0.09%. The fireplace can hold 2 kg of wood at a time. Its dimensions are: diameter 324 cm, main cylinder height 2070 cm and fireplace door height is 575 cm.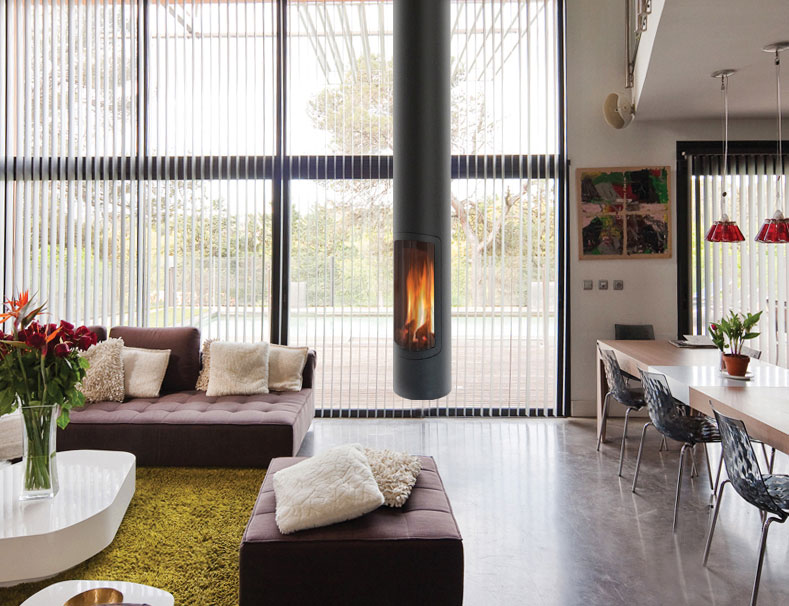 Design: Atelier Dominique Imbert
Photography courtesy of Atelier Dominique Imbert