Frederik Roije, an interior and product designer based in Amsterdam, adds beauty to functional but often neglected-in-style objects. His impressive collection of carefully considered and crafted creations has been displayed at museums and international design events. These otherwise ordinary items, a chicken coop, a child's chair with built-in lamp, bird houses, and bent metal pipe lighting, express his genuine concern for utilitarian good looks.
The Smoke Stack elevates fire with a modern sensibility while at the same time there is something vaguely familiar there. Perhaps it's the nod to factory chimneys that poured out heat for industrial workers in the last century. That form fueled industry, profits, and economies and is an iconic symbol of that wealth.
Formed of Corten, weathering steel, Smoke Stack is intended for use in your garden and on your patio. I'm smitten with this material and its ability to form a textural and stunning layer of protective rust. Just over six feet in height and under 20 inches in diameter, its arched topped opening allows for an easily manageable wood fire. Strapped together with black iron, its elegant tapered shape acclimates itself in to any design style and era, and even the smallest outdoor living space. The powerful, massive factory furnace inspired this enduring, radiating, luxurious, yet practical fire.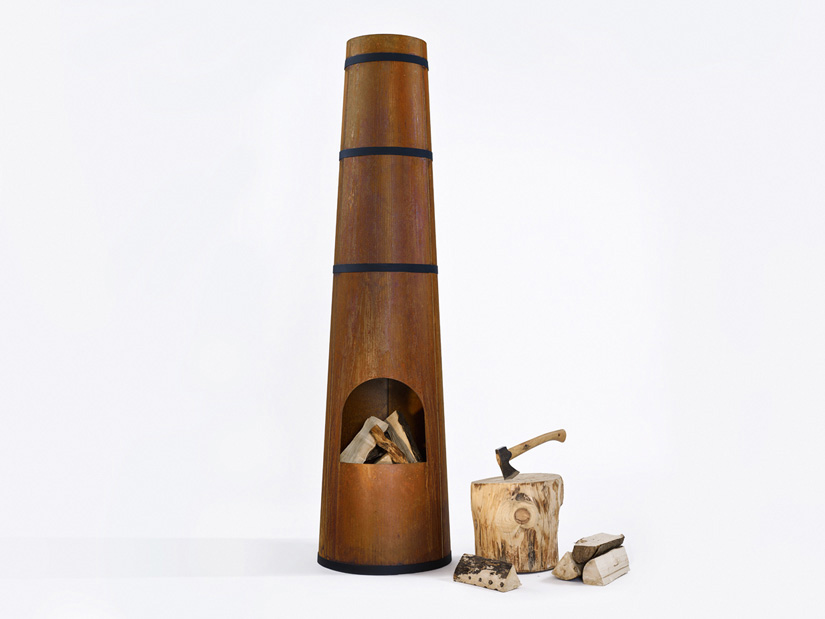 Design: Frederik Roije
Photography courtesy of Frederik Roije