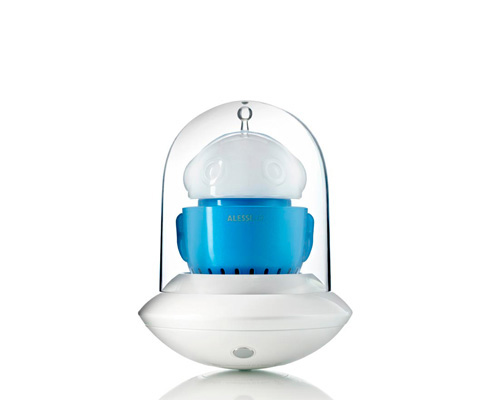 What's your approach to the existence of UFOs or else simply and commonly "flying unidentified objects"? Whether positive or negative, there is a chance to reconsider the whole concept, thanks to Alessi Lux portable luminaires. Cute as button only but few could argue, while many could support the view that they are bringing home lighting to a next level.
Torches? Lanterns whit flickering candles? Leave that behind and give it a try with these portable light bulbs, completely cable free, which can illuminate your every step through out your home, in an emergency or just for fun! But for those which need the feeling or warmth candles and lanterns bring, just wait a few more lines till I share something that you'll probably love.
Back to our sweet UFOS, designed by Frederic Gouris for Alessi. They come in four bright and fun colors, all combined with white. For the record, I'm really missing an all white or white / grey edition here. Still the color lovers out there will have enough to choose from, among orange, blue, green and pink! Children should love it too, finding comfort in their little light companion along their ways, without having to be afraid of the dark.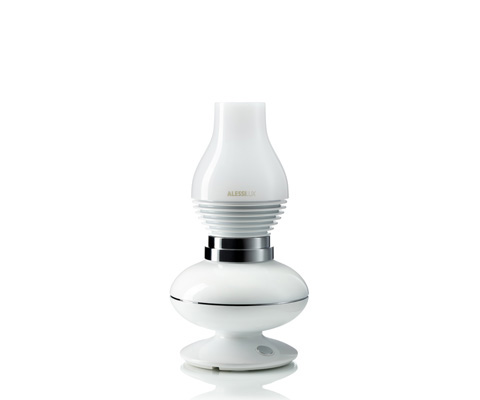 Now it's time to satisfy the tastes of the more nostalgic ones and perhaps those who prefer a colorless edition, much like myself. Here is the portable Lumiere desk flame, all in white, designed by Giovanni Alessi Anghini and Gabrielle Chiave. It comes with bulbs in two different shapes, one roundish and one cone like. They both succeed in evoking memories of forgotten objects, old customs and meanings, while shining a whole new and fresh light in them, don't you think?
Designers: Studio Gooris for Alessi.