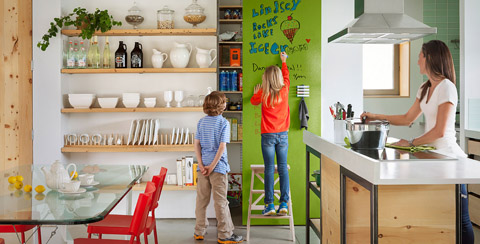 Here's a cool design idea for ya' – it's called IdeaPaint – a dry erase paint that turns practically any surface into an erasable canvas – perfect for brainstorming in the office or unleashing your creativity at school or at home.
IdeaPaint is an environmentally responsible whiteboard paint that transforms virtually any surface into a high-performance, dry erase canvas. The virtually odorless formula is easy to install and erases cleanly every time.
Paint entire conference rooms from floor to ceiling, turn tables into mini whiteboards allowing students to write right on their desktops, or even create a doodling spot in your bathroom – anything goes!