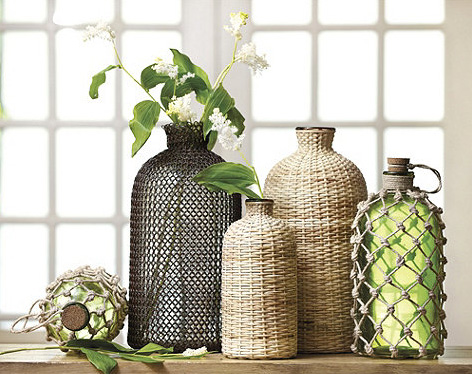 Fall is spreading in this part of the world, making our homes places to be spending more and more time at. It's a calling for making some changes, adding something new or perhaps retrieving something old from the cupboards and giving it a whole new life. How do you like antique demijohns? Perhaps you, like me, really like them for the rustic and relaxed feeling they easily add in our spaces, yet are concerned that finding the right ones might cost a little fortune. After all, antique hunting is quite often an expensive sport, unless we get lucky with our occasional flea market finds.
As an alternative solution that won't break the bank while keeping all the charm demijohns carry, here is a lovely collection, I found at Ballard Designs, featuring clear glass demijohns with iron cash, amber ones with woven cane and green bottles dressed in knotted jute.
All three options are also available in three different sizes, ranging from small to medium, to large. The smallest version has a height of 10 3/4 inches and a diameter of 5 1/4 inches while the largest measures 17 inches high and has a diameter of 8 1/2 inches.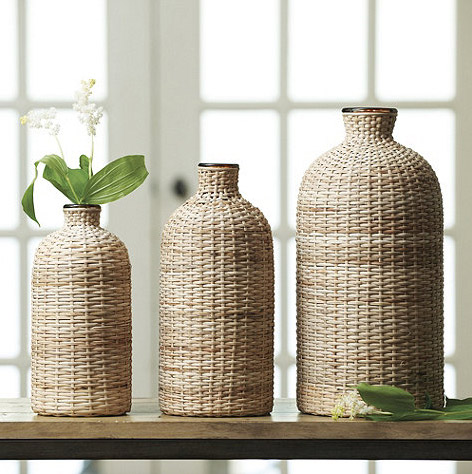 Which type is your favorite? I find the ones covered in iron mesh very appealing and can imagine them in industrial like environments, where shades of grey paired with bright white prevail. My personal taste leans on the woven canes one though. It reminds me of how living residences in the Greek islands of Cyclades are decorated and I'd love to have a few randomly resting on the concrete stairs of a summer house.