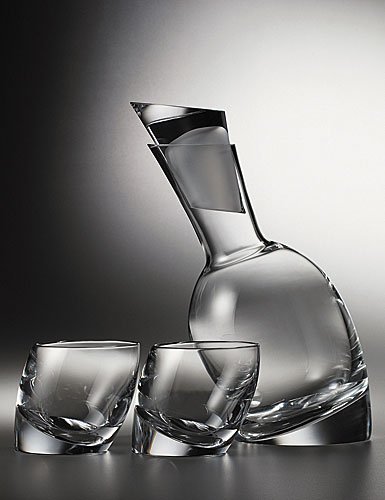 Nambe's products are well known for their elegance and sense of lifestyle since more than half a century ago. In fact the company was founded as early as 1951, in the tiny village of Santa Fe in Northern New Mexico. Together with time, evolution has come and the company has been introducing new collections, along with the older classic ones always keeping their value and being considered collectibles.
This crystal tilt decanter set is part of the full lead crystal collection introduced in 1998. It carries elements of both the company's tradition as much as a modern touch and a fresh attitude on lending a poetic look to everyday objects, or simply adding form to function. Don't these glasses look as if they are moving forward to the right direction? Or to the left for that matter depending on the position we give them ? Or better when filled with our spirits of preference looking as if their content has frozen towards the bottom, while we were in the process of slowly moving it in circles, so that its aroma escapes?
Whichever the case, they do stimulate fantasy and their design certainly raises a topic! The set includes two glasses and a mostly beautiful bottle accompanied with its topper, also following the tilted design. It is 11 inches high, while the glasses containing capacity is ten ounces.
This set is not only old fashioned with a modern twist, it also requires old school cleaning methods. Avoid the dish washer and simply enjoy holding them in your hands while giving them a gentle wash. But first make this evening somehow special for yourself and your company, feeling them up with your preferred liqueur indulging in joyful, interesting conversations till they are empty or simply need to be refilled using the matching bottle.
Buy This Item