Flat-Broke managed to take what Thomas Edison discovered and turn it into functional art. Take a stroll through their lighting designs and try not to walk away feeling as though you just met Tom himself!
The wow factor of the 013 Lamp light fixture is affixed with features that are truly a conversation piece. Comprised of cast iron vintage lab rings, bakelite knobs, an aluminum rod, filament bulb, cotton twisted wire and a dimmer switch, this piece offers light and love all in one glowing review for a mere $390.
With minimal stock available, it is as original as they come, yet surprisingly affordable as a one-of-a-kind type fixture. Although Flat-Broke is a name that speaks for itself in the affordability regard, giving further reason to invest in such artistry.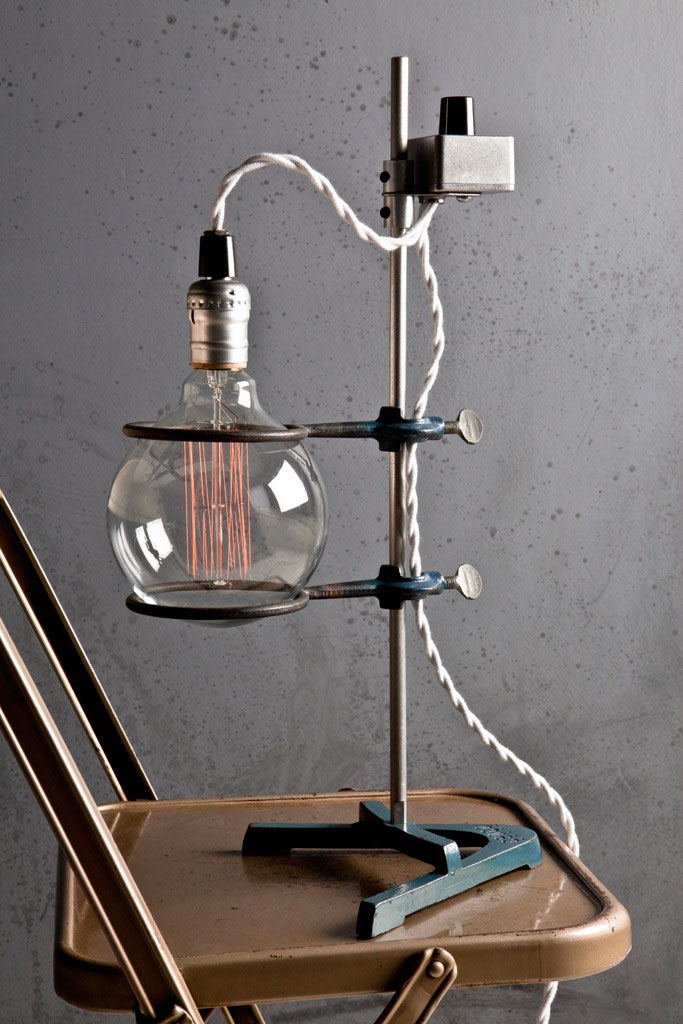 With even less stock available on the next piece we wanted to shed light on, the cast iron shop lamp lights up any room with flare and vintage appeal. With an adjustable height of 53" – 69", it conforms in height but definitely not in beauty. This 04 Lamp sells for $850, and the remaining stick is soon sure to be going going gone.
Whether you are tired of box store designs, have an appreciation for beautifully wired objects, or are a collector of "the rare" …these lighting options boast of history, affordability, and artistry that will light you up!
Design: Flat-Broke
Photography courtesy of Flat-Broke