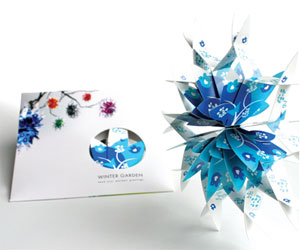 The 3d pop up greeting card by gaga tree is called the winter garden pop-up card. Inspired by the Chinese "Magic Flower" paper toy, these beautifully original works of art not only convey your best wishes, they also quickly convert to eye-catching ornaments that can be put on display anywhere.
Each foldable card comes with an envelope, ribbon and instruction card. It's actually more than a greeting card…it can also be used as a gift tag or gift ornament. It is so lovely you can hang it everywhere as a decoration for good fortune.

Your friends and family will be delighted with this thoughtful reminder of how much you care. Brighten their days and lift their spirits with a WinterGarden 3d pop up greeting card from gaga tree!

The gaga tree gang are a group of gritty graphic designers, all born and raised in Singapore, who are behind a series of products that are graphically inspired, brilliantly designed, incredibly fun and uniquely Asian. "We wanted to design and produce stuff that are fun, wild and uncommon. Things that can cause a person goes gaga over. And to inspire with love; to captivate people."
The gaga tree website is also a piece of art, graphically accurate inspired from Asian culture and colors presenting their products with high quality photographs.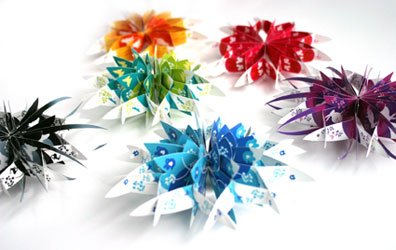 By the way, if you're into 3d pop up greeting cards you might also be interested in How to make a pop-up book with a twist.