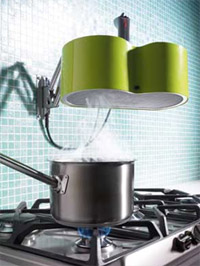 Hurly Burly cooker hood from Inseq Design is a great idea for small houses or compact home owners.
This cooker hood doesn't take much space while resting closely on a few screws attached to the kitchen wall, waiting to silently slide to the forefront to clear the steam of your broiled soup or fried potatoes.
This cool cooker hood is guarding the steam from infiltrating the room with its smell, by using an activated carbon filter. Instead of using a steam outlet, Hurly Burly solely relies on the room's air circulation and has a removable grease filter, thus always showing a clean appearance for its next encounter with food.
Getting the right cooker hood to suit all your needs and your kitchen design style is not easy.
Most cooker hoods are very large and take a lot of precious space, especially if you own a tiny house. That is why Inseq Hurly Burly is such a great find for your kitchen.