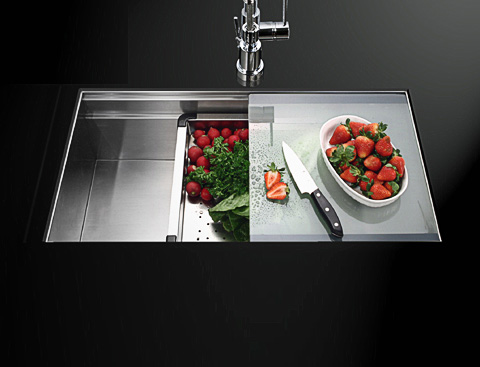 The Novus Sink by Houzer is a new take on a kitchen staple, with a tidy aesthetic and a formidable list of performance-engineering features. Though most of these are invisible without the catalog, the additional sliding layers that gift an extra 60 of working space are an immediate design attraction.
The sink is designed for built-in use, and is made from stain and scratch resistant 'Type 304' stainless steel. The edges are sharp and the corners are tight right angles, so it will match the rest of a modern kitchen top layout well. The next (optional) layer up is a stainless steel drying rack, topped by a translucent layer of glass that sits flush with the worktop.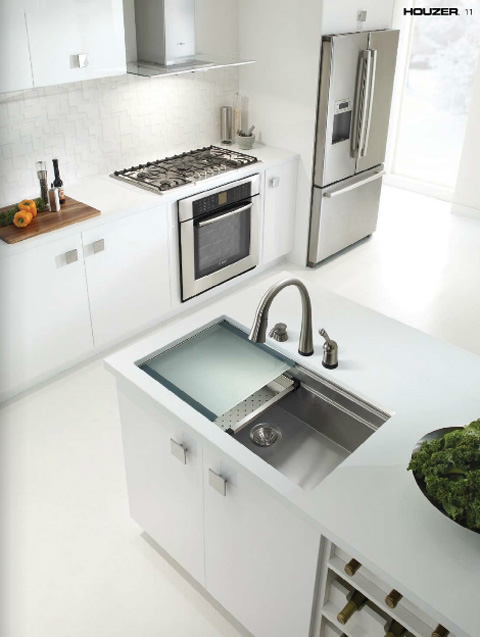 The sliding drying rack could be used for washing delicate crockery, or for letting salad drain, whilst you carry on cooking elsewhere. The glass surface can be slid on top to let you stack bowls, ingredients, glasses, or to carry on chopping. Given the price of property these days, we appreciate any deign that minimizes wasted space, and the Novus Sink also cleverly brings it right where you need it. To top it all, the sink is mounted in Silencer rubber that shrinks the clatter volume when your washing up.
Dimensions; 78 cm L x 46 cm W x 22cm D. Drying tray 3.8cm D.
Buy This Item