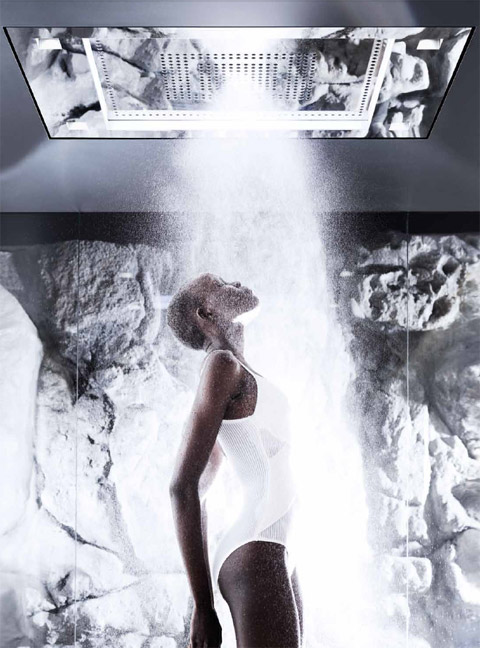 Have you recently perhaps had a unique spa experience? I've had mine much further to the past than I actually would like, still I remember with detail every sensation and emotion as water was dripping on my head and body in a variety of tensity, shapes, releasing simultaneously essential oils… the smell of fresh mint almost still tickling my nose.
Now, let's press fast forward a tiny little bit, to the moment where I choose to incorporate a pretty amazing thing in the shower room of our one-day-new-house, so that I no longer have to rely on spa experiences taking place once in a while. Instead exactly whenever I want to. Sensory sky, made by Dornbracht, seems like the perfect choice.
It is inspired by natural phenomena, offering a combination of different types of rain, fog, light and fragrances, complementing each other, creating complex choreography.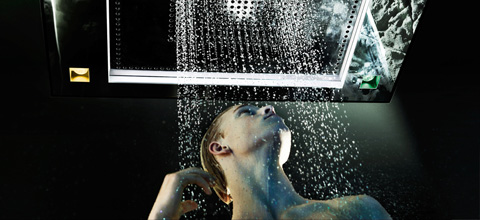 Controlled using new, digital, smart tools that offer an intuitive, simple application logic, there are choices such as "reAdjust", "reLease" "reJoice". The first one sensitizes and sharpens the senses with warm fog and light rain. The second one is as cleansing and liberating as a summer cloudburst. The last one protects, envelops and stabilizes with water droplets glistering in the colors of the rainbow, a rather unique detail.
We only need to be patient for a little while, as Sensory Sky is to be available this Fall. Seems we'll be having multiple chances to be singing in the rain.