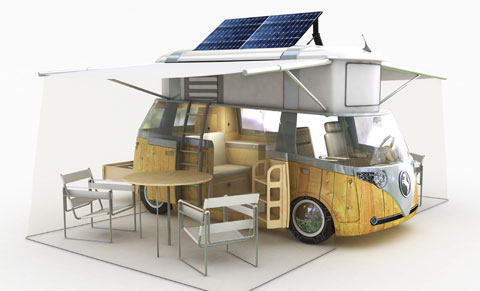 The new Westfalia Verdier Solar Power caravan is a completely green energy, self-sufficient caravan which runs on solar power.
The new Westfalia Verdier caravan is equipped with a system of intelligent solar panels, which makes it possible to provide electricity to the on-board accessories while the vehicle is in a stationary position. An on-board computer and a GPS (Global Positioning System) calculate the optimal position for the caravan's solar panels.
This caravan has a pneumatic suspension, which lowers the vehicle and sets its structure on the tires for improved comfort and a better stabilization in a stationary position. A swivel cooking range makes it possible to cook outside as well as inside. And of course, a multi-media computer with a wireless Internet connection is also useful where the communication technology is available.
The second stage area can be accessed from the inside by transforming the passenger seat into stairs. The sliding half-door on the passenger side has an integrated folding staircase, which makes the second stage area accessible also from outside the vehicle.
On the Verdier web site you can find the most amazing 3D rendering movie i have seen in quite some time now, showing the new Westfalia caravan with such appreciation for details – highly professional.


By the way, if you're into camping gear, travel trailers or caravans or solar power eco-friendly green homes design you might also be interested in:
DESEO touring caravan
Airstream travel trailer
Trailer design Trailer Wrap
Nomad family camping tents and kids sleeping bags
Selk'Bag sleeping bag
A Hobbit house green home in Wales
I would love my own tree house
Outdoor solar light MagicGlobe Solar Light Sphere
Algae biofuel Greenbox
Sun Jar
Recharge your gadgets with Solio Solar Panels
Eco friendly products by Formway
Green homes with Eco-terric
Tree house sphere design
Solar shingles green homes
solar garden lights