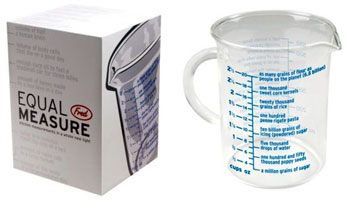 Who says cooking tools should be dull? The Equal Measure is a functional yet super funny measuring cup by Fred.
This humorous kitchen gadget presents off-the-chart measurements; did you know that the volume of one human breath equals 500 ml, the amount of honey made by a bee hive in a day is 300 ml and the volume of the brain of a Tyrannosaurus Rex is 100 ml? …cool stuff
Made from heat-resistant durable borosilicate glass, this measuring cup gadget includes measurements in cups and ounces on both sides and is safe for microwave and dishwasher use.
Buy This Item