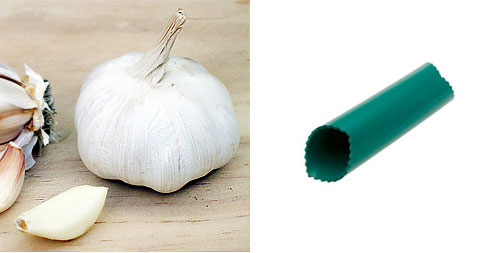 Cooking with garlic will give that extra zest and aroma to any dish, especially Italian food. The only problem with garlic is the time-consuming task of stripping every shred of peel from each clove …and they tend to get under your fingernails too; that is why the E-Z-Rol Garlic Peeler is such a necessity in your kitchen – it works like magic!
Simply place an unpeeled clove of garlic inside this 5 inches long, rubber-like tube and roll back and forth on a counter top while applying pressure with your hand – voila! you have a peeled garlic clove ready to be cooked. No garlic odor left on your hands or the counter top.
Cleanup is easy, too. Just rinse it under the tap or run it through the dishwasher – a perfect gift for the kitchen chef.
Buy This Item