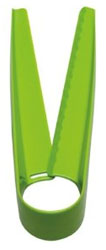 At first I didn't know what this green thingy was, however its bright leafy green color and simple design made me go and do a little searching, after all we love new kitchen gadgets – the weirder the better!
So what is this, you ask.. well, it's a Leaf Shear from Chef'n. This one-piece pair of shears, with its serrated blades, will easily cut and snip large lettuce leaves and fresh herbs right into the salad bowl, eliminating any other cooking tool such as a cutting board or a chopping knife – Perfect for letting kids help in the kitchen.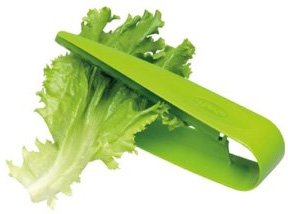 Made from a one piece nylon construction, this gadget is flexible, durable and dishwasher safe.
Buy This Item