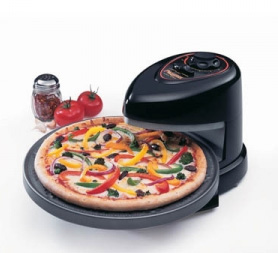 The Presto Pizzazz revolving pizza oven lets you create a restaurant quality pizza in the comfort of your own home. With its exclusive RotaBake technology, the rotating tray continually turns the pizza under heat to assure even baking, top and bottom, taking half the time of a conventional oven – who thought a rotating countertop oven be any better than a standard oven when it comes to making pizza?
Homemade or take-and-bake, fresh or frozen, regular or rising crust – it all works here! No need to preheat it, since it begins rotating and baking the moment you plug it in.
This nifty kitchen gadget also features separately controlled top and bottom heating elements, so you could make toppings as bubbly and crusts as crispy as you like. The 13-1/4" diameter nonstick baking pan can also be removed for easy cleaning and compact storage.
A timer with automatic shutoff lets you set cooking times precisely, and a cooking-time guide for various pizza types is printed on the pizza maker. For safety, the appliance shuts off automatically if it overheats.
I also liked the fact that it can save as much as 60% in energy compared to conventional ovens, without heating the house up in the middle of the summer. What a great gift for any college kid, or anyone who loves pizza.
Buy This Item