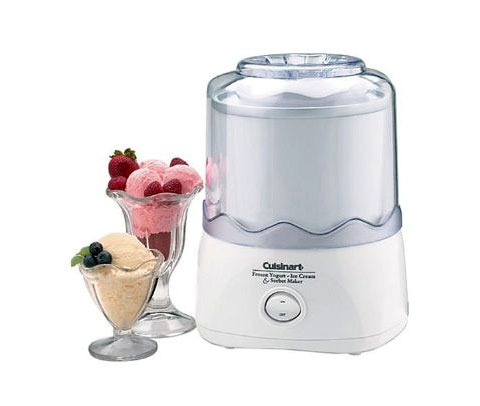 This machine was made for me! I am an ice cream/frozen yogurt addict and now I can enjoy the finest homemade frozen treats – at home! The fully automatic Cuisinart Frozen Yogurt Ice Cream & Sorbet Maker makes frozen favorites with no fuss and no mess.
The fast and efficient heavy-duty motor makes frozen yogurt, ice cream, sherbet, sorbet or frozen drinks in 20 to 30 minutes – without ice. It is fully automatic and there is no need to stir or mix ingredients. Simply place them into the bowl and turn on the machine – easy and mess free!
Make up to 1.5 quarts of frozen desert and experiment with new recipes and wonderful new flavors by just adding your favorite secret ingredients – turn on the machine and …. Voila!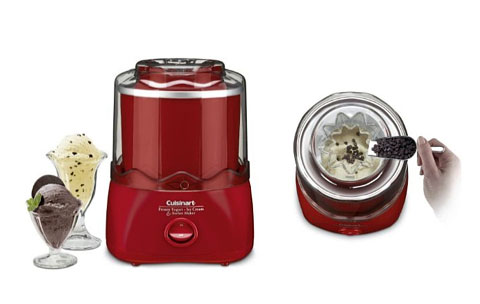 The patent-pending mixing paddle mixes the frozen treats and the transparent lid locks tight allowing you to watch the process, which is also part of the fun. The mixing arm and freezer bowl aerate ingredients for light and creamy mixture and the nonstick chamber ensures perfect results and a quick clean-up after use, whilst the base wipes clean with a damp cloth. The rubber feet are non-slip, keeping the base stationary during use and the machine is very compact and takes up very little room. Unused cord is easily pushed into the base to keeping the working counter uncluttered and safe.
'Cuisinart' has over 30 years experience in designing and manufacturing home kitchen products making it easier than ever to savor the good life whilst creating your latest culinary delights.
Buy This Item