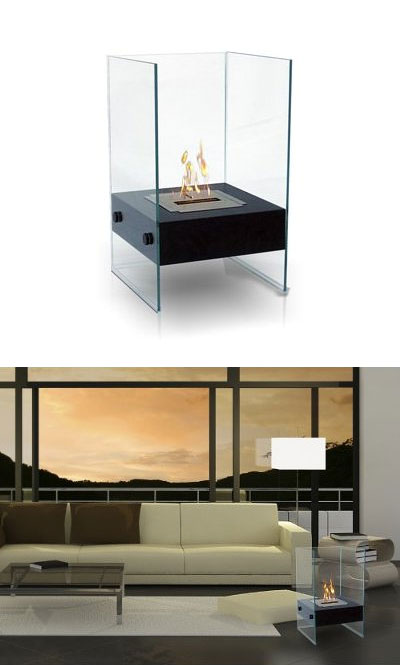 The Hudson fireplace is ideal for both indoor and outdoor use, featuring a unique and stylish design that will add elegance and sophistication everywhere you place it. It's not small in size yet not too big, however don't be mistaken, it will surely make a large impact in every space, while its flames dance between glass on 3 sides, warming up your room and atmosphere. Place it on the floor, on top of a table, on a stand or any other place where you can admire its gorgeous design and beautiful flames.
We all know there's nothing similar to a fireplace effect. There's something so romantic and calming in watching the flames – You can let your mind wonder away, while you're feeling mellow, cozy and warm.
We all try to avoid the mess a fireplace can create, and the Hudson fireplace is the perfect answer for that – It burns bio-ethanol liquid fuel up to 5 hours per liter; smokeless, odorless, non-toxic, non-polluting, no soot or ash to clean up and it is vent-less, needs no chimney, no gas or electrical hook-up. And if you're looking to use it as an outdoor fireplace, no worries, the body is made with an outdoor grade powder coating that prevents weather from damaging its satin black finish. Having said that, you will not want to leave the burner outdoors so water couldn't get into it.
Buy This Item