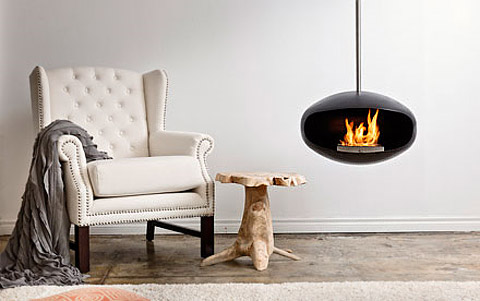 The Cocoon Aeris is a beautiful modern hanging fireplace with a new approach for heating. It is the simplicity of the design that makes it so genius and attractive. This fireplace uses a fuel called Denatured Ethanol (ethyl alcohol) – clean and environmentally friendly; as the fuel burns, the main body of the fireplace heats and radiates warmth throughout the room. The combustion chamber holds 1.5 liters of fuel and burns up to 6 hours depending on the heat setting, which can be adjusted for comfort.
And that is not all, as opposed to traditional fireplaces, that are usually installed within the wall and create a massive amount of dirt and high-maintenance, the Cocoon Fireplace can be installed hanging from the ceiling and can be adjusted to several different heights as you please. In my eyes, one of the most striking features of the Aeris fireplace is its spherical design, reminding me of the classics, just like an old flame.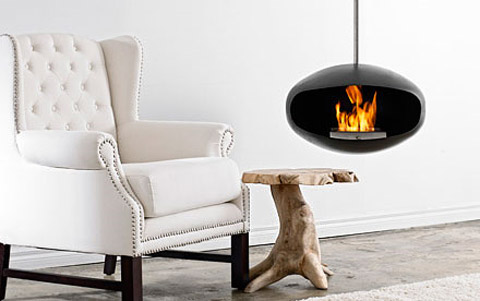 According to tradition, fire is one of the four elements of nature, along with earth, air and water. Nature gave us humans, the ability to create and control fire, although at times I believe the fire within us, controls us. There is something hypnotic in those flames, the way they are manifesting themselves in different shapes.
The Cocoon Aeris fireplace features an elegant, minimal design that achieves maximum effect of warming up the space. The ability to adjust its height, via the adjustable hanging pole, will allow you to install the fireplace according to your decorating needs and desire.
If you don't wish to hang it down from the ceiling, you can always use it standing, with the included standing poles. On top of it all, the fuel being used will save you all worries of maintenance and cleaning after heating up the room. It is clean, environmentally friendly, elegantly designed and ready for installation.