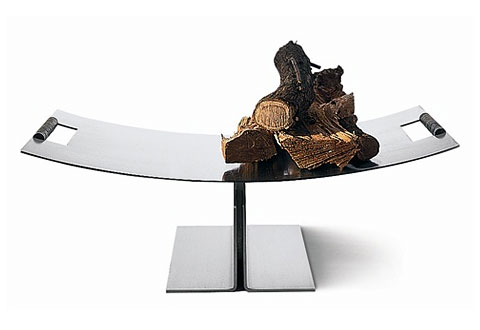 Most times when we're using the phrase 'one picture is worth a thousand words' we think of a cliche. With Peter Maly's beautiful fireside log stand we will be spot on. One look at this unique, stylish log stand is all you need – an outstanding piece. Made of stainless steel and leather, this state-of-the-art log stand will add a whole new look to your both your fireplace and living room. If you're looking for that extra something, that won't be too obvious but won't leave any room for doubt – this is it!
There's so much we can say about home decor, and the way each item has its impact on the entire ambiance. With that said, there's not too much attention given to log storage and the way it impacts your home decor; while a lot of thought has been put into the fireplace itself, not enough thought has been given to the actual logs.
Finally, we're been treated with the most elegant, sophisticated piece to store our logs as well as present them. The Conmoto log stand is classically chic and is priced accordingly – an outstanding piece that is worth a thousand words. Measures 23.6″l X 13.8″H X 8.3″W.
Buy This Item