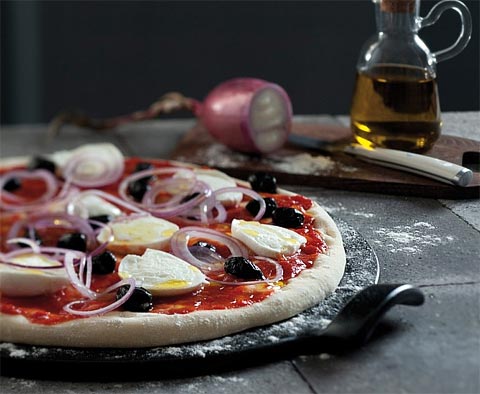 To paraphrase Dean Martin – a good pizza is amore (love) and Emile Henry's Flame pizza stone is the base for a good love story! In the 16th century, Maria Carolina, the queen of Naples decided that the peasant dish pizza was fit for royalty. Since then, Italian pizza has set the standard for pizza all over the world. No matter what type of pizza you prefer – traditional style with regional ingredients or trendy with surprising toppings, one requirement is essential for a satisfying pizza: a crispy well-baked crust.
Unless you own a wood-burning brick pizza oven the best way to get a good crust when making pizza at home is by using a pizza stone in your regular oven. Now, I love making pizza, focaccia and bread, but I hate using the pizza stones. First of all they are heavy and cumbersome and somehow I always end up with burned or nicked fingertips whenever I use them. The second thing I dislike about them is their porous texture, I know the high heat disinfects the stone but I always feel uneasy about how clean they really are.
Then I received Emile Henry's pizza stone and a new era has begun in my kitchen. For five generations, Emile Henry has been making bakeware, cookware and tableware in Marcigny, France. The Flame pizza stone is manufactured combining mineral-rich Burgundy clay with 100-percent natural ingredients and proprietary technology.
It has a micro-crazed glaze to withstand high oven temperatures, distributes heat evenly and you can also cut directly on it without damaging or scratching the surface. It can be used on grills (gas, charcoal or natural wood), in ovens (conventional and convection), under broilers or over open flame.
The stone is lightweight and is designed with built-in handles that make it so easy to carry and take out of the oven. It has a wonderful smooth surface that doesn't become sticky or stained and is a breeze to clean with soap and water and is also dishwasher safe. The pizza stone is 14.5" in diameter and comes in four colors: figue (purple), olive, red or black.
So now I am the official pizza goddess of my house, turning out pizzas with beautifully baked crispy crusts and "amoring" everyone.
Buy This Item